Pop in and visit us
241 OLD HOWICK RD, HILTON, KZN, 3200, SOUTH AFRICA
WEDNESDAYS - SUNDAYS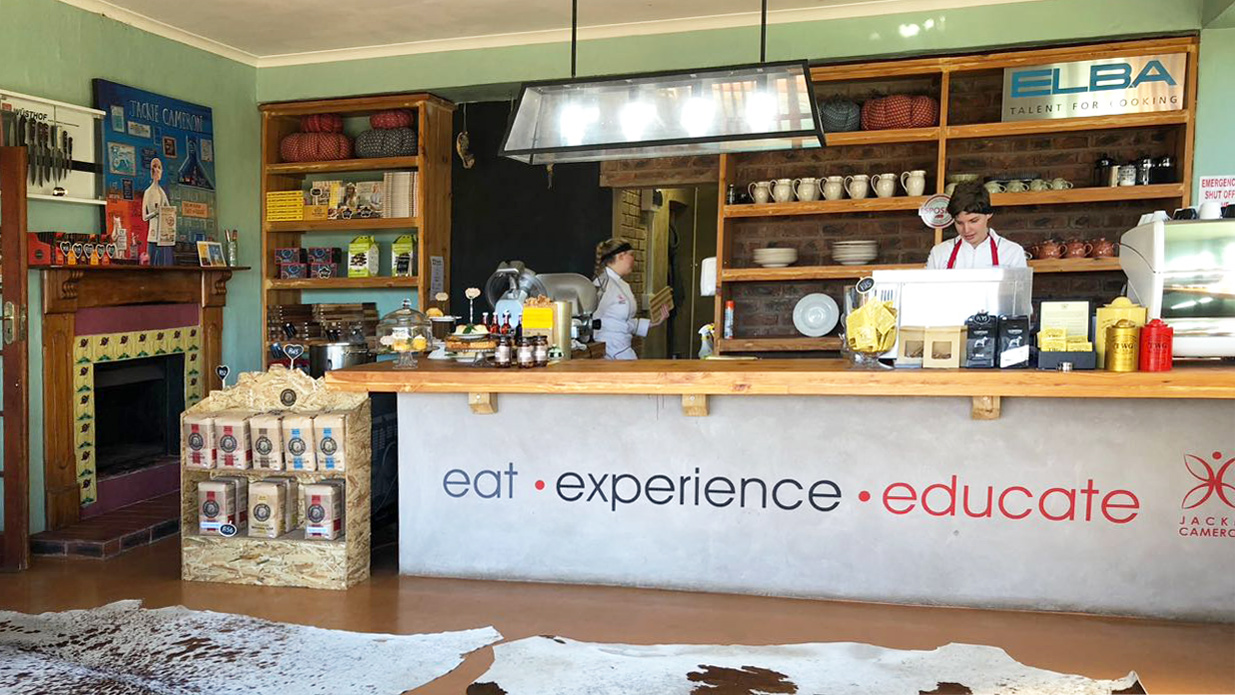 The School Outlet is stocked with tantalising treats created with care for the discerning cook's kitchen. No more products that sit in the pantry because you don't know how they fit into your style of cooking. The School Outlet will offer unusual, delicious produce – and Chef Kate will be there with advice on servicing and using the items. Think school-made, charcoal-ash mayonnaise; duck confit; freshly-flavoured oil; hand-churned butter; edible flower cordials; proper Asian ferments; soufflé bases; artisanal-bread starters; Esposito cured meats, tallows and glossy stock. Apart from the homemade goodies; products from superior suppliers will be on sale.
These include: Wüsthof for knives, Ardmore for world-class ceramics and a unique fabric collection, Homewood for its select dayto-day range, Weber braai accessories, Riedel glassware, Fungkits and Wonderbag. Best of the food supplier range include: Rio Largo Olive Oil, Oryx for salt, Terbodore for coffee, Chrissie's artisanal cheese, BlueOrange for portioned ducks and chickens, Gourmet Greek for its yummy yoghurt, TWG teas, Afrikoa Chocolate, LuluBee reusable wraps and Champagne Valley for stone-milled flour. All this, with the opportunity for wine tastings as well, promises a delicious and educational experience.
DELICIOUS & HOMEmADE
BRUNCH MENU
WEDNESDAYS - SUNDAYS
Pop into our relaxed, daytime eatery - is where patrons will be able to linger while indulging in decadent, creative, African inspired breakfasts.
The three-course menu – comprising simple breakfast concepts of the highest possible standard and cooked with butter, free-range eggs, KwaZuluNatal traditional stone-ground flour, SASSI green-listed fish, hormone-free meats, locally-grown fruit and vegetables; or the irresistible, newly-baked, oozy Umsobo jam donuts; or the enticing, local, naartjie custard slices; and much more – spell return visits.
Expect heritage KwaZulu-Natal cuisine, highlighting seasonal, local ingredients with new-age elegance. Here quality will be paramount. Allday breakfasts will be served from Wednesdays to Sundays from 09h00 until 13h00. Cost: R175.00 per person (Incl VAT). But stay a while - high tea with scrumptious cream scones and bubbly bring closure to the day.
Jackie Cameron School of Food & Wine aims to add a chef to your kitchen and flair to your meals.
Ladies' Chef Range
The world is changing at a frenetic pace. Nothing has escaped. Except chefs' uniforms, which date to the dinosaurs. As for us girls, we're hardly distinguishable from the boys. Until now.
From now on, we're going to change the world. We're going to be pirates rather than join the navy.
Feminine, chic, professional, slim-lined, to suit every shape, with stylish aprons. Think zip for the one and open net back for the other.
White ½ length Apron - R310
Grey Full length Apron - R350
Ladies' Chef Jackets - R1 265
MENS' Chef Range
Having an appearance that is both comfortable and professional is a top priority for any chef.
We know culinary attire has to be durable, to last through those long hours in steamy kitchens but still make you feel confident and cool.
White ½ length Apron - R310
Grey Full length Apron - R350
Mens' Chef Jackets - R1 265
Kids' Chef Range
It pleases me to see the many children who pop into the kitchen and then want their picture taken with me. Long may their interest in food last! MasterChef has been greatly instrumental in rekindling culinary enthusiasm in the young - and the young at heart too. This interest inspired me to create aprons for the young 'uns remembering full well how much mess they can make. Here's hoping many more children get into the kitchen with their parents. Learning how to cook from a young age produces confidence for later years. I hope my little aprons are an inspiration to all.
KIDS' APRONS - R130
BAKING WITH JACKIE CAMERON
Jackie Cameron pays tribute to these early influences by including some of their cherished recipes in Baking with Jackie Cameron. But she wouldn't be an award-winning chef if she didn't take a recipe and make it her own, creating a dish that is reassuringly familiar yet intriguingly different and, of course, utterly delectable.
Love old-school trifle? Jackie's version, made with malva pudding, Amarula crème anglaise and dried-fruit compote, yields an explosion of flavours that, once tasted, make total sense. Or how about Naartjie and Cardamom Cake, or Amadumbe Bread? The recipes cover the spectrum of baking from breads and biscuits through large and small cakes to pies both savoury and sweet.
With over 80 recipes and more than 50 mouth-watering photographs, Baking with Jackie Cameron is a book no keen cook should be without.
Jackie Cameron has had a prestigious culinary career. After qualifying at the Christina Martin School of Food and Wine, she did a stint at Mount Grace Country House and Spa in the Magaliesberg before becoming head chef at the award-winning Hartford House in the KwaZulu-Natal Midlands.
Her many achievements include representing South Africa at the 2014 Audi Chef's Cup Südtirol in Italy, being a judge for the 2015 Eat Out Mercedes Benz Restaurant Awards, and appearing on Top Billing, Masterchef SA, and with Justin Bonello on Ultimate Braai Master. Fulfilling her dream to tutor aspiring chefs, she opened the Jackie Cameron School of Food and Wine in 2015. Her first book, Jackie Cameron Cooks at Home, was published by Penguin Books in 2013.
JACKIE CAMERON COOKS AT HOME
Jackie Cameron is one of the most exciting chefs working in South Africa today. Under her leadership the Hartford House restaurant in the KwaZulu-Natal Midlands has been in the top 10 in all of the South African culinary awards, achieving the first when she was just 25 years old. Jackie Cameron Cooks at Home shows the professional taking off her chef's tunic and donning her home apron.
With its generous invitation to good cooking that is easy and delectable this book is a must-have for every South African home cook.
ISBN: 9780134530671
Format: Hardback
Recommended Price: R270
Published: May 2013
Penguin Publishers
Jackie's book is available from the following retailers:
Exclus!ves
Kalahari
Loot
TAKEALOT.com
Reader's Warehouse
eat • experience • educate